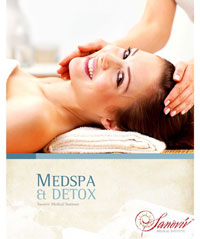 In our increasingly toxic world, we are under continual assault from pollution, pesticides, processed food, pharmaceuticals and stress. The combined result is a host of chronic degenerative diseases.
The Detoxification Program begins a series of diagnostics tests, medical and dental evaluations designed to accurately assess your true state of health.
MedSpa & Detox
Sanoviv will also conduct a series of functional diagnostics tests. These functional test allow our doctors to see your organs and systems at a much deeper level then conventional clinical testing, helping us detect health problems and diseases before the onset of symptoms. These tests also help our doctors to find the root cause of your disease.
When you arrive at Sanoviv, you will be assigned a medical doctor, a dentist, a psychologist, nutritionist and a detox specialist. These medical professionals will work with each other and partner with you as you go through your program. Once we have the results of the entire group of tests, the doctor will customize a treatment protocol designed specifically for you.
During your stay at Sanoviv, you will experience our beautiful surroundings.
The Sanoviv food is 100% organic and designed specifically to help your body detoxify.
You will have evening lectures about nutrition and health and interactive classes in how to prepare the correct meals to optimize your nutrition and thus boost your immune system.
Our rooms are individual ocean front suites. You will experience our Thalasso therapy pools, our fitness program and our spa treatments.
After completing the testing, you would begin an intensive cleansing, detoxification and regeneration regimen. The Detoxification and Regeneration program is designed to jump start you to health and wellness. It is the perfect anti-aging program.
This program is right for you if you:
want to focus on your health, energy, lifestyle and long term wellness and don't have obvious health concerns.
if you're overweight, want to reduce quickly and learn new methods for controlling weight designed to last a lifetime.
know that your body is overstressed and you want an intensive detoxification and regeneration program.
have gone through a Sanoviv medical program already and want/need additional detoxification.
believe in the healing power of nutrition and want to improve your health through diet, and detoxification
The scenarios listed are examples of possible tests, medical treatments, and therapies you may receive during your individualized approach program. Depending on the results of your health assessment.
Physician
Nutrition
Dental Evaluation
Integrative Testing
Assisted sauna therapy
Assisted Thallasotherapy
Swedish Massage
Body wrap
Lymphatic Drainage Massage
MRT parafango
Sound Meditation
Food Prep
Stretching
Energy Medicine
Meditation (regular)
Yoga
Water Fitness
Rebounding Fitness
Dance
Dental Lecture
Breathing & Relaxation Lecture
Spa Orientation
Fitness
Doctor prescribed treatments
All lectures and educational classes...and more!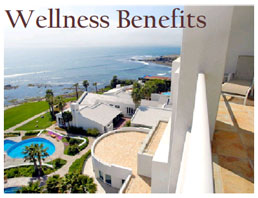 Complimentary shuttle to/from San Diego
100% organic clothing provided during your stay
Toothbrush, tongue scraper, dental floss and full tube of USANA toothpaste
Organic, Sanoviv-grown wheatgrass (2x daily)
Organic green juice (2x daily)
Sense TM hair and shower gel in your oceanfront, balcony suite
Rebounder in every room
Chi machine in every room
All meals provided - organic, low glycemic, gluten and dairy-free
Personalized Sanoviv water bottle
Sanoviv tote bag
Organic cotton sheets and towels
Unlimited use of infrared sauna
Unlimited use of Thalasso pools chlorine free
Unlimited use of infinity and lap chlorine free pools
Seaside jogging/walking track
Access to our organic garden
Library stocked with reading material
Guest computers/internet lounge
Lecture handouts/recipe booklet
Movies/Game Room
Fitness Program