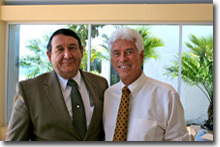 General Director of Sanoviv Medical Institute
Dr. Franco received his medical degree from the "Escuela Superior de Medicina" and the "Instituto Politécnico Nacional." He also did his postgraduate work in the "Instituto Nacional de Pediatría" where he studied Pediatrics.
A medical doctor with over 30 years of experience, fulfilling his main goal of helping people be healthier, Dr. Franco was interested in expanding his horizons and learning more ways of treating disease.
Ever since he was introduced to Dr. Wentz, he has been a major supporter of the vision and dream of creating what is now Sanoviv.
"Working at Sanoviv was a great opportunity to keep learning how to improve the way I treat patients. This is an impeccable environment, with great staff to work with", recalls Dr. Franco.
Our general director is a perfect example of the spirit of Sanoviv and our approach towards our patients: "There is always something to learn, there is always something to improve for the benefit of our guests."